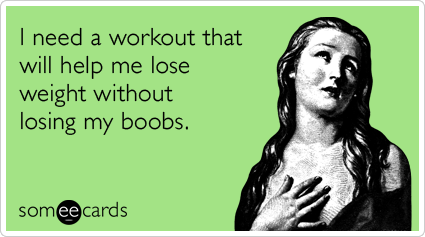 I didn't create this ecard, so I know for a fact I'm not the only one wishing to keep the attractive meat while whittling away at the unattractive. I am doing a lot of weight machines that focus on my chest to try to lift up the sagging flesh enough to attract the wandering eye of a passing stranger. Sadly, it hasn't made much of a difference yet. But there's still hope.
Exercising this late in life after being fairly sedentary has brought about it's own set of issues. Muscles ache, feet hurt, back seizes up…all in the name of health? Seems I felt much better before! Haha. I decided that I needed a massage and scheduled one at a local school to save myself some money. Just in time too! I woke up in the middle of the night with so much pain in my back I was struggling to get a deep breath.
After my shower I decided to try an adhesive heating pad. It wasn't exactly made for the mid-back and it was incredibly hard to reach (why I need a mate hanging around the house!) but it did seem to help. I also did some yoga stretches to see if I could release any tension. Between that and the ibuprofen, I was able to make it to the gym this afternoon promising to take it easy and assuring myself the massage would do the trick. And it did help – a bit of soreness there but light years better than before.
I want to do a couples massage so badly. While I waited to go back to get my muscles beat upon there were two couples waiting and another that was coming out. It feels so romantic and intimate. I was jealous of how connected they were. Of course, in my mind after the massage comes some freaky,passionate sex. So, maybe I'm just needing a good one-on-one massage! Right now would be the perfect time too – I smell delicious and am somewhat flexible!